Edm​und C.​ Brown M​​inistries​
"Where the Gospel is Making A Global Impact!"
"Stan​ding In th​e Gap" Ezekiel 22:30
| | |
| --- | --- |
| Posted on May 14, 2016 at 12:00 AM | |
Over the past 26 years in ministry I have heard every excuse imaginable of both why people feel as though Sunday morning worship is enough for them as well as the out right proclaimation of them attending church so much as a child that God knows their heart and as given them an excused absence.  Even recently while conducting a youth bible study the questions resurfaced from this current generation.  Those young impressionable souls asked, "Do you need to go to church in order to be saved, and go to heaven?'  "Is it a sin to not attend church?"  "Will God accept a doctor's note for missing a few Sundays?"
These are all wonderful questions that those of us that classify ourselves as Believers on the Lord Jesus Christ sometimes have, with the exception of the last one.  That was pure genius, but I will attempt to address all of these questions here.
It would be foolish to act as though we don't have some who prefer not to attend church at all.  There can be wide range of "reasons" for that: They work, they can't afford the gas, can't find a baby sitter, they don't feel comfortable with their wardrobe, they have some sort of disability, and the list of "reasons" go on and on.  However, some may have had bad experiences in the past, such as experiencing hypocritical people who are perfect, dealing with "fake Christians" who may have led you to have a negative outlook on the church, money hungry preachers, or even the horrible choir singing. 
Either way you look at it...all of these "reasons" are no more than self-centered excuses.  I say self centered because each carnally based excuse is all about the self-preservation of one's self.  Ironically enough it's not as though the great decision you've made thus far in your life has gained you any real peace, but I digress.
I had to point out all of the "reasons" that some prefer not to go to church in order for me to address the undenible fact that those who believe that Sunday worship is enough, sadly possess the same reasoning.  Just think about it.  That literally means you are possibly one decision away from never stepping into the house of God again, and it all looks like it makes sense.  


To answer the questions at hand:
Our salvation isn't something we earn by going to church, which would be considered scripturally as works.  The truth of it all is that we will never be able to do anything that could possiblly gain us righteousness.  Good deeds don't get us into heaven any more than a preacher delievering our eulogy could.  It is the finished work of Christ on the cross that purchased our salvation.  We are indeed saved by God's grace and when we place our faith in Jesus Christ that same grace is applied to every area of our lives.
For by grace are ye saved through faith; and that not of yourselves: it is the gift of God: Not of works, lest any man should boast.
Ephesians 2:8-9
In essence, you will not lose your salvation by avoiding church.  You cannot earn your salvation by attending church.  It is however possible for you to live your life in total anguish and disppair by separating yourself those who may have overcome the things you may be dealing with as according to Revelation 12:11  One of the most hilarious truths about church attendance is like what one person said: "Going to church won't make you a Christian any more that being in a garage makes you a car."  As believers we have to remember that WE ARE THE CHURCH.  In 1 Corinthians 6:19 (AMP) the Word of God declares... Do you not know that your body is a temple of the Holy Spirit who is within you, whom you have [received as a gift] from God, and that you are not your own [property]?  It saddens me to see so many Christians not having an understanding that being the "Church" means more than just church attendance.  It means that we are representatives of the love of God in the earth and that love is represented through His standard which is the Word of God.  
So, missing church is not a sin, but I believe the out-right refusal to assemble as the Father has desired us to with like-minded believers is sin.  We live in an ever declining culture where the concept of sin has become watered down through carnal legalistic arguments over right and wrong.  The truth is that sin, as defined in the original translations of the Bible, means "to miss the mark." The mark, is the standard of perfection established by God and distributed by Christ Jesus.  If we are to uphold that standard of perfection by assembling ourselves as Hebrews 10:25 KJV states; Not forsaking the assembling of ourselves together, as the manner of some is; but exhorting one another: and so much the more, as ye see the day approaching.. then we must do more than just go to church on Sunday. 
I am not saying that you are supposed to be in church 24 hrs / 7 days a week, but I am pointing out that the majority of our time is spent doing things that don't even edify our spiritual walk with the Lord.  Just as sick individuals seek a physician for healing at the hospital, a felon seeks an attorney to represent them in court, as believers we have a designated place of assembly as well.  That designated place of assembly is not the club, ABC store, crack-house or any carnally centered social gathering spot, that place is the house of God.  Yet, each day of our lives we should more and more desire to find ourselves in the presence of the Father.  Whether its spending time in prayer, reading the Word of singing songs that both glorify Him and edify your spirit man, our life should be a model for all unbelievers to aspire to have.
Now unfortunately, bad things have happened in churches.  Nevertheless, the Word of the Lord is crystal clear concerning the Father's expectations as it relates to Christians gathering for fellowship.  Always remember to seek the Father concerning which direction you should go and what God Himself says about it in His word.  After all, who really cares what people think? Shouldn't we care what God thinks more than anything?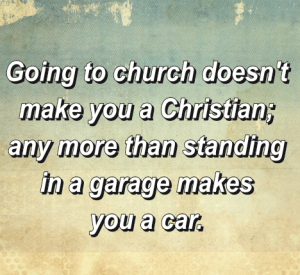 Scripture References:

Matthew 10:15 - Truly, I say to you, it will be more bearable on the day of judgment for the land of Sodom and Gomorrah than for that town.

 

John 12:48 - The one who rejects me and does not receive my words has a judge; the word that I have spoken will judge him on the last day.

 

Acts 2:42 - And they devoted themselves to the apostles' teaching and the fellowship, to the breaking of bread and the prayers.

 

Romans 13:12 - The night is far gone; the day is at hand. So then let us cast off the works of darkness and put on the armor of light.

 

1 Corinthians 3:13 - each one's work will become manifest, for the Day will disclose it, because it will be revealed by fire, and the fire will test what sort of work each one has done.

 

Hebrews 3:13 - But exhort one another every day, as long as it is called "today," that none of you may be hardened by the deceitfulness of sin.

 

Hebrews 10:37 - For, "Yet a little while, and the coming one will come and will not delay;
Categories: Biblical Views, Religion & Spirituality
/